Connecting Through Motherhood
Therapeutic Groups in the Calgary area for people who identify as mothers wanting to create space for authentic connection to themselves as they navigate their way through the challenges of motherhood.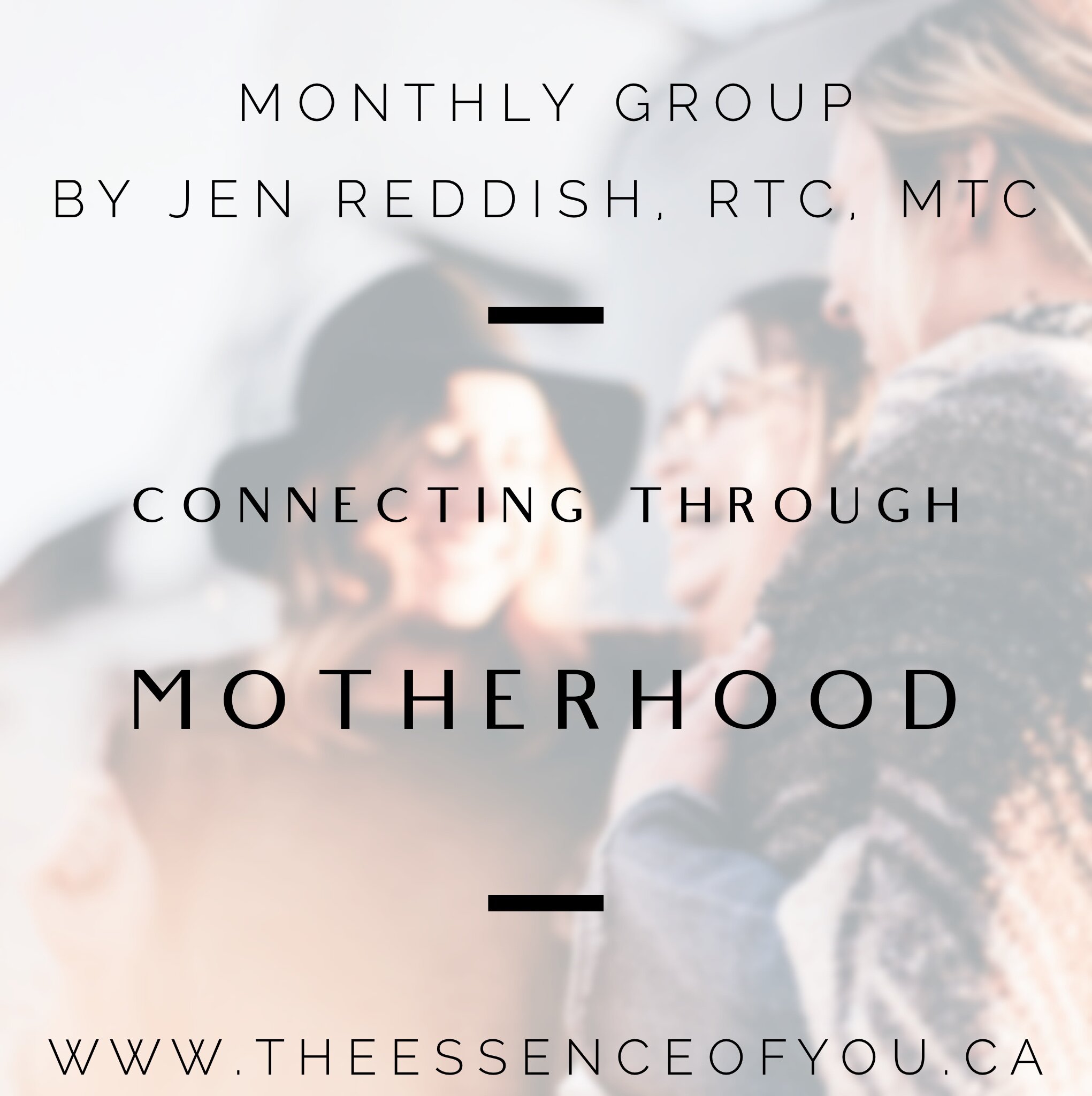 Give yourself an opportunity for authentic connection as you take reprieve from your busy life and enter into a retreat-style experience in the peaceful countryside on outskirts of Calgary.

These groups are held monthly starting Saturday June 29th. Sessions are from 10-1 and include a light lunch. You do not have to register for a set number of sessions (although you get a reduced rate when booking multiple upfront), and you will get a receipt to submit to your health plan for insurance rebate. Each group session will be limited to a small group to create a safe space with time for you to share.
You will be welcomed at each session with a meditative connection with nature to help you centre in on yourself and identify what you need to focus on. Afterwards, you will be guided through therapeutic discussion and activities to help you navigate current struggles in your journey through motherhood - with a prime focus on deepening your connection to yourself.

You will be supported to gain insight and make healthy changes to make your journey through motherhood more manageable.
What to expect:
* Connect to your identity and the essence of who you are while processing current and past experiences in this supportive group setting
* Learn how to put yourself first without sacrificing others,
* Learn how to set limits and boundaries within your relationships with assertive communication,
* Learn how to manage your emotions effectively

Each group session will be led by Jen Reddish, Registered Master Therapeutic Counsellor at the Essence of You, who has nearly a decade of experience facilitating groups and supporting people to connect to themselves and the root of their issues to help them make positive changes in moving forward into their lives more freely.
BABES IN ARMS ARE WELCOME.
When you invest into yourself, you always have more to give. You and your whole family will benefit.

Investment:
$90 when registering for one session, or
$85 per group when registering for 3 sessions upfront, or
$80 per group when registering for 5 sessions upfront.
Payment plans are available when booking multiple sessions at a time. Contact Jen to enquire about payment plans.
FAQ's
How is this different from other mom groups?
This group offers a retreat-style experience in a restorative environment centred around YOU. This is MORE THAN a casual event for moms to connect with each other (Those are great too! I can refer you to some amazing ones I know of if this is what you are looking for). Each session will be led by experienced therapist Jen Reddish and structured to allow time for self-connection, authentic sharing, and feedback to help you increase your self-awareness, connect more fully to your emotions and inner voice, and grow towards making healthy changes in your life to help you grow your self-esteem and settle into your role as a mother with more confidence.
How often are the group sessions held?
Once a month from 10am-1pm. A light lunch is included!
How many sessions are there?
This group is ongoing, held once a month - generally the fourth Saturday of each month (first session is held on June 29th).
Do I have to register for a certain amount of sessions?
You are welcome to register for as many or as little as what feels beneficial for you. Each session has a maximum number of participants so you will need to register in advance to secure your place.
Do I have to pay for all of the sessions upfront?
Payment plans are available when booking multiple sessions upfront - Payments will be accepted in installments upon registration then at the first, second and/or third sessions depending on how many sessions you register for.
Can I claim these sessions on my health insurance?
Receipts will be issued for you to submit to your health insurance.
How is this different from individual therapy?
These sessions are similar to individual therapy in the sense that they will provide ample opportunity for increasing your awareness and making healthy changes in your life - but they are different because you will learn about yourself through the lens of other members of the group by listening to their stories and hearing their feedback and insight about your own story that you may not have come to see otherwise. This opportunity for relating, sharing and feedback in a group setting can be incredibly normalizing and dramatically reduces feelings of shame.
Can I bring my baby?
Yes, babies are welcome! I do ask that walking, talking children be left with another caregiver so that their presence is not distracting for yourself and other group members.
Where are the sessions held?
These sessions are held at a beautiful property just outside of Calgary (shown in pictures above!). For reference, it is approximately 20 minutes from Shawnessy if you are coming from the South, or approximately 30 minutes from Bowness if you are coming from the North. My clients say that the short drive is WORTH it! Feedback I get from clients is usually that they like having the time to consider their intentions for their sessions on the way there & appreciate having time to reflect on their new insights and unwind before returning to their busy lives afterwards. A recent client shared this: "It's definitely worth the drive. Plus, you get the time to yourself while driving there and back to either contemplate things, sing at the top of your lungs, or listen to audiobooks/podcasts!"
Any other questions? Contact me at jen@theessenceofyou.ca